Event:
THE MAVERICKS Greet A Brand New Day
Date:
Tue, Oct 17th, 2017
Time:
7:00 pm
Description: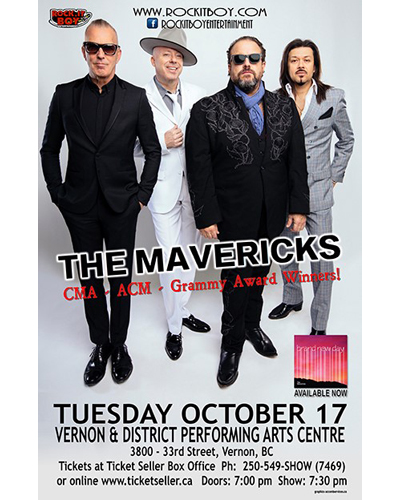 The genre-defying MAVERICKS are declaring their independence and stepping out on their own with Brand New Day, the first studio album released on Mono Mundo Recordings, the label they founded in 2016.
Brand New Day is the follow-up to the widely praised Mono (2015): "All Night Long", "Summertime (When I'm With You)", "What You Do To Me" and "Pardon Me" and In Time (2013): "Come Unto Me", "Back In Your Arms Again", "Born To Be Blue", "All Over Again" and "Dance In The Moonlight".

Flashing the same exhilarating, beyond-category style that has defined THE MAVERICKS, the new album introduces a collection of taut, energetic, economical songs sure to be embraced by both original fans of their top-10 albums and hit singles of the '90s, including "Oh What a Thrill", "What a Crying Shame", "There Goes My Heart", "All That Heaven Will Allow" and "All You Ever Do Is Bring Me Down", plus a new generation of listeners who have joined the party since their triumphant 2012 reunion. It is the mature and timely work of an exciting and underestimated American band that has embraced its own destiny. Malo says, "The real goal was to make a great record."

The new collection features the core members of the group since their reformation: Malo, drummer Paul Deakin, guitarist Eddie Perez, and keyboardist Jerry Dale McFadden, along with auxiliary members "The Fantastic Four" filling out the set's brawny sound with their signature accordion and horns.

Free and truly independent for the first time in their career, THE MAVERICKS were able to write and record without watching the clock. The album contains a diverse selection of originals that show off THE MAVERICKS' always multi-faceted musical personality, including the boldly upbeat title song, the tejano/bluegrass flavored "Rolling Along", the intensely romantic "Goodnight Waltz", the blues-fueled "Ride With Me", the thematically pointed "Easy As It Seems" and "Damned (If You Do)". The album's 10 new songs seamlessly merge strains of Tex-Mex, Cuban bolero, R&B, blues, country, and rock 'n' roll.

The "non-gen" MAVERICKS have racked up some serious awards along the way to this newfound independence including Academy of Country Music Awards for Top New Vocal Group and Top Vocal Group (1994), Top Vocal Group (1995); Country Music Association Awards for Vocal Group of The Year (1995, 1996); a Grammy Award for Best Country Performance by A Duo or Group With Vocal (1995) and an Americana Music Association Honors & Award for Best Duo or Group of the Year (2015). No doubt, there will be more to come!


For more about THE MAVERICKS visit: www.themavericksband.com.


Venue:
Vernon and District Performing Arts Centre
Address:
3800 - 33rd Street, Vernon
Cost:
$69.50 (plus Facility Fee and Service Charges)
For more info: