Event:
Seed Starting Basics - ONLINE Class
Date:
Wed, Feb 24th, 2021
Time:
4:00 pm to 5:00 pm
Description: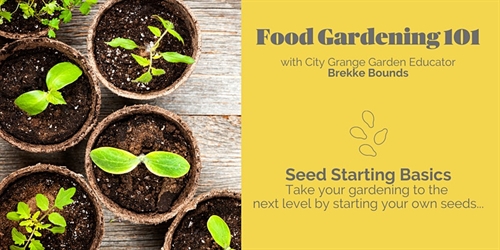 Starting your own seeds is a great way to save money, grow interesting varieties, and to get started with gardening earlier. Join City Grange Educator, Brekke Bounds, to learn all the basics to get going with your own seed starting operation at home.
We'll discuss finding the space, choosing the equipment, and if you really need supplemental light (spoiler alert:probably!). Reminder, this is an ONLINE ONLY class. You will be sent a link to this class several hours prior. Please check your email. About City Grange City Grange is a revolutionary destination garden center – teaching, inspiring and empowering today's urban gardeners. Mantra : We believe the world would be a better place with more gardeners in it Mission : Remove every barrier to our customer's growing success Motto: United We Blossom About Your Instructor Brekke Bounds is our Education Coordinator and veggie garden educator. Aside from having a degree in sustainable agriculture, Brekke also studies herbalism and permaculture. After four years working for Gardeneers teaching children how to grow food in school gardens and being on their auxiliary board, Brekke joined our team to help spread the home grown veggie gospel to children and adults alike. With over a decade of experience in small space, school, and production gardens, Brekke's your gal.

Address:
Online Event, Vernon

Cost:
For more info: