Event:
Sonic Sound Fest
Date:
Sat, May 15th, 2021
Time:
12:00 pm to 00:00:01
Description: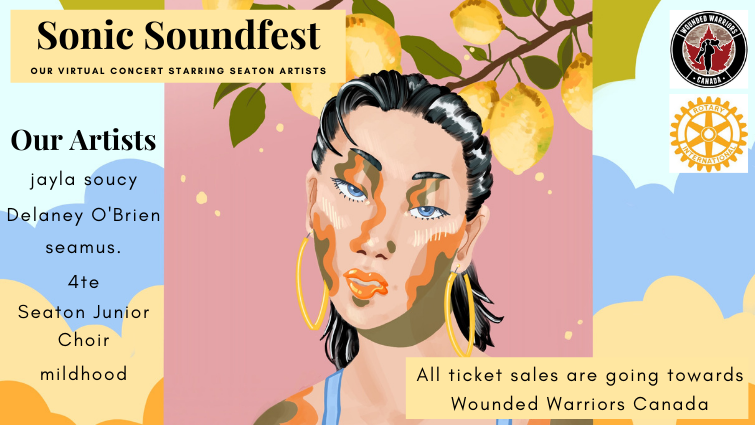 Sonic Sound Fest is an annual concert run by the W.L. Seaton Rotary club. This year we are showcasing 6 musical acts from Seaton student artists.
In order of appearance, this year's student performers are:

Jayla Soucy
Delaney O'Brien
Seamus Powell
4te (Tyden Louis, Colter Louis, John Finlayson, and Isaac Chatterton)
The Seaton Junior Choir (grade 8 and 9 students)
mildhood (Torin Andrews and Lucas Sadesky).

There is something for everyone in this year's set. We are excited to announce that the organization we are sponsoring this year is "Wounded Warriors Canada," a national mental health service provider utilizing clinical best practices and evidence informed care to create an environment of compassion, resilience, and hope for Canada's veterans, first responders, and their families. They provide trauma informed workplace training, operational stress injury group-based programs, spousal and youth programs, and K9 assisted therapy.

Address:
Online Event, Vernon

Cost:
$5, $10, $20, $50
For more info: