Event:
Big Block Union
Date:
Sat, Sep 25th, 2021
Time:
7:30 pm
Description: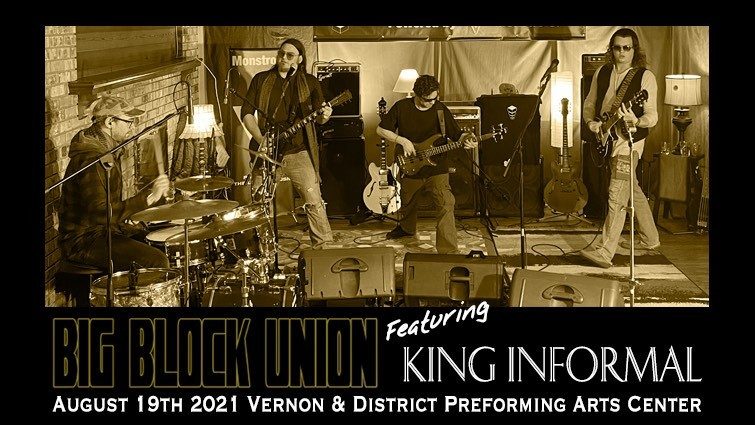 The energy is palpable. The connection is undeniable. The music is pure.
With so much musical camaraderie and genre diversity, Big Block Union owns their ballzy, soulful, original rock sound. It's a sound that radiates "fresh", but borders on that feeling of familiarity.

Together their musical influences take in the entire musical spectrum from southern rock to blues, funk, classic rock, metal, punk, 90's alternative, grunge, jam bands and eclectic independents.
Currently working 22 original songs through the process of tracking, mixing, and mastering, they are anxious to release their original and unique sound to music fans everywhere.

Collectively, after years of multiple bands, multiple countries, solo projects, studio session work, hired musician gigs, cover bands etc., these four bandmates' passion and commitment to creating music continues to evolve with what is now Big Block Union.

Venue:
 Vernon and District Performing Arts Centre
Address:
3800 - 33rd Street, Vernon, V1T 5T
Cost:
$20
Ticketing and/or registration:
Call Ticket Seller at 549-SHOW (7469) for tickets or check website below
For more info:
Ticketseller