Event:
Caetani Splash: Viva d'Arte fundraiser
Date:
Sat, Jun 25th, 2022
Time:
4:00 pm to 00:00:01
Description: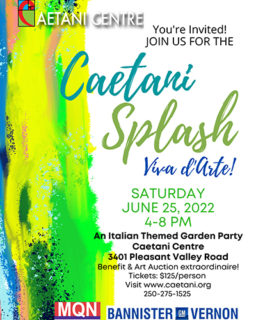 Come celebrate the Summer Solstice at our first live fundraiser since 2019! Our annual fundraiser is being held in the beautiful Caetani House gardens.
Tickets for the newly revamped Caetani Splash Viva d'Arte fundraiser are selling quickly, so buy your tickets now while quantities last!

To get into the festive mood, we encourage you to wear your most colourful, flowery and fun garden hat! Limited quantity tickets can be purchased at the link below, or you can call the Ticket Seller at 250-549-7469.


The social event of the season sponsored by MQN Architects and Bannister GM Vernon, the Caetani Splash Vive d'Arte features a live auction featuring 29 original artworks created by the Okanagan's best artists!


Featuring a variety of styles, colours and mediums, all artwork on our auction block would make a wonderful addition to any art connoisseur's collection.


Visit the Caetani Centre from June 22 to 24 between 9:30 a.m. and 4 p.m to view these spectacular works of art. An appointment is not required.


New to lead the live auction this year is local media personality Kevin Rothwell, of Rothwell Auction and Entertainment, who will be joined by the one-and-only Betty Selin as emcee.


Make sure you bring your appetite as we will be offering exquisite charcuterie, appetizers and desserts prepared by Uprooted Kitchen and Catering. A Prosecco reception, as well as wine and limoncello, is also included in your ticket.


We will not be offering on-site parking, but if you have mobility challenges, you can be dropped off at the house. When you are parking in the surrounding streets, please be respectful of the neighbours.


We look forward to seeing you at our fundraiser!


Venue:
Caetani Centre
Address:
3401 Pleasant Valley Road, Vernon, V1T 4L4
Cost:
$125 includes food and drinks
Ticketing and/or registration:
https://www.ticketseller.ca/tickets/event/caetani-splash-viva-darte-fundraiser
For more info:
(250) 275-1525
Caetani Centre
The 125+ year-old Caetani Centre is a 6,000 sq. ft. designated heritage house, situated on 1.3 acres of land on lower East Hill in Vernon, BC. The facility is operated by the Caetani Cultural Centre Society as a registered not-for-profit organization and registered charitable organization. Now open to the public, the Caetani Centre is available for both guided and self-guided heritage tours. Visitors can learn about the fascinating Caetani history and story and see treasured family artifacts as well as Sveva Caetani's heralded Recapitulation painting series, recently returned permanently to the Caetani Centre after 35 years from the Alberta Foundation for the Arts.