Event:
Missoula Children's Theatre Musical Theatre Camp
Date:
Mon, Jul 18th, 2022 to Sat, Jul 23rd, 2022
Time:
10:00 am to 5:30 pm
Description: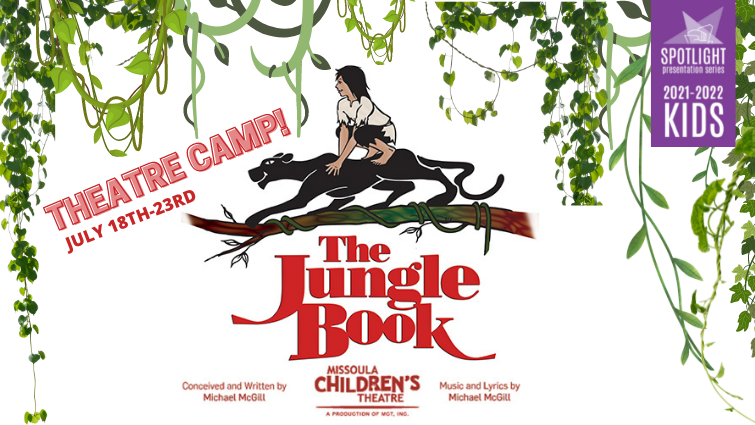 Ever been abandoned in the jungle, adopted by wolves, taught by a bear, befriended by a panther and chased by a tiger? In the Missoula Children's Theatre musical adaptation of THE JUNGLE BOOK, Mowgli the man-cub has all these adventures and more.
Camp Dates:

Monday July 18, 2022- Friday July 22, 2022
10am-2:30 (with optional additional workshops from 9-10am on the Tuesday-Thursday – at no added cost)

Final Show:
Saturday, July 23, 2022 at 3:30pm and 5:30pm

Join him as he escapes from the Monkey-People, outwits a tiger, enlists the help of a rock-python, explores what it means to be human and learns a lesson from the brave mongoose Rikki-Tikki-Tavi. Original music and rollicking humor give new life to the classic tale by Rudyard Kipling.

Days of action-packed fun, laughter, music, and expression are what MCT day camps embody for its cast members. All of the students will participate in a fun audition, receive a role, and rehearse the production. Camp/cast members will also experience the freedom of improvisation, the excitement of theatre skills development, movement, and art classes, and the thrill of performance!

Call 250-549-SHOW (7469) to register. Space is limited.

Venue:
 Vernon and District Performing Arts Centre
Address:
3800 - 33rd Street, Vernon, V1T 5T
Cost:
Cost of camp registration: $130
Cost of tickets for Parents: $12
Ticketing and/or registration:
Tickets are available online at
Ticket Seller
or call 250-549-SHOW (7469)
For more info:
Ticketseller